IAS
International Accreditation Service
As a subsidiary of the International Code Council (ICC), IAS provides ICC Evaluation Service (ICC-ES) lists of accredited testing laboratories and inspection agencies.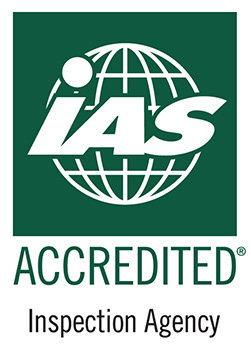 Scope of Accreditation
Fire Tech Services, Inc. is accredited in the following fields of inspection: Quality Control procedures for in-plant Wood Shake and Shingle Fire-Retardant-Treaters and in-plant Fire-Retardant-Treated Lumber and Plywood. Our report number is AA-641 and our Certificate of Accreditation can be viewed by clicking here
About IAS
As one of the leading accreditation bodies in the United States, IAS is a signatory to the four primary international organizations that form a unified system for evaluating and recognizing competent accreditation bodies worldwide. These organizations are identified as "cooperations" because they have agreed to cooperate with one another by adhering to a common set of accreditation criteria and to undergo periodic onsite evaluation to determine ongoing compliance with ISO/IEC Standard 17011, General Requirements for accreditation bodies accrediting conformity assessment bodies (CABs).
Criteria
As a Type A certification body (third-party) we have met the requirements of the IAS Accreditation Criteria for Inspection Agencies (AC98) by demonstrating compliance with ISO/IEC Standard 17020:2012, Conformity assessment - Requirements for the operation of various types of bodies performing inspection, and has been accredited to provide inspection services per the scope of accreditation.
CSFM
California State Fire Marshal
The Office of the California State Fire Marshal, Fire Engineering Division provide evaluation, approval & listing for building products that are required to comply to California law.
Scope of Accreditation
Fire Tech Services, Inc. is accredited in the following fields of inspection: Building materials tested to ASTM E 84 (Test Method for Surface Burning Characteristics of Building Materials), Uniform Building Code Standards UBC 15-2 (Test Standard for Determining the Fire Retardancy of Roof Assemblies), UBC 15-3 (Wood Shakes) and UBC 15-4 (Wood Shingles) as well as the State Fire Marshal SFM 12-7A-1 Exterior Wall Siding and Sheathing (also known as California Code of Regulations, Part 12, Title 24, Chapter 12-7A, Material and Construction Methods for Exterior Wildfire Exposure, Wall Siding and Sheathing). Our listing can seen on their list of approved inspection agencies for the Wildland Urban Interface (WUI) areas by clicking here.
About CSFM Fire Engineering Division Listing Programs
In the past this division maintained two product evaluation listing programs. The Building Materials Listing Program (BML) and the Wildfire Protection Building Construction program. The wildfire program (also known as WUI) has been merged with the BML program. For more information on their approval process and how to apply, click on the link below.
Criteria
Fire Tech Services has met the requirements of Chapter 1.5, Article 5, Title 19 of the California Code of Regulations.